Sokil, Kolomyia
May 8 – June 8, 2022
Our Apartments, Houses, Cottages, Garages, Offices and Backyards.

After the 24th of February, millions of Ukrainians left their homes and became displaced persons. After four waves of labour migration and searching for a new place due to the occupation of Crimea and Donbas, Ukrainians finally seemed to be ready for a settled way of living. And while we decorate every place "from within" and "for ourselves", it is that the houses are seen better from afar, and their facades can tell even more about our collective subconscious.
The workshop preceded the exhibition, where the artists, together with displaced persons and Kolomyia residents, recreated from their memories places where they used to live or where they stay now.
Workshop participants:
Ania Sokolova (Myrnohrad), Anna Kuzmenko (Kyiv), Anton Hylko and Yevgen Kryshen (Bogdanivka), Dmytro Koronik (Borodianka), Kateryna Aliynyk (Luhansk/Kyiv), Maria Liukshyna (Kyiv), Marta Bazak (Kolomyia/Kyiv), Oksana Yashchuk (Kolomyia/Kyiv), Olga Malyshenko and Anton Vozniuk (Kyiv), Serhii and Kostiantyn Mykhailov (Kyiv), Svitlana and Oleksandr Ulianov (Myrnohrad), Viktor Korchynskiy (Kolomyia/Kyiv), Yurii Kruglov (Kolomyia), Yulia, Yurii and Dominika Mykhailiuk (Hostomel).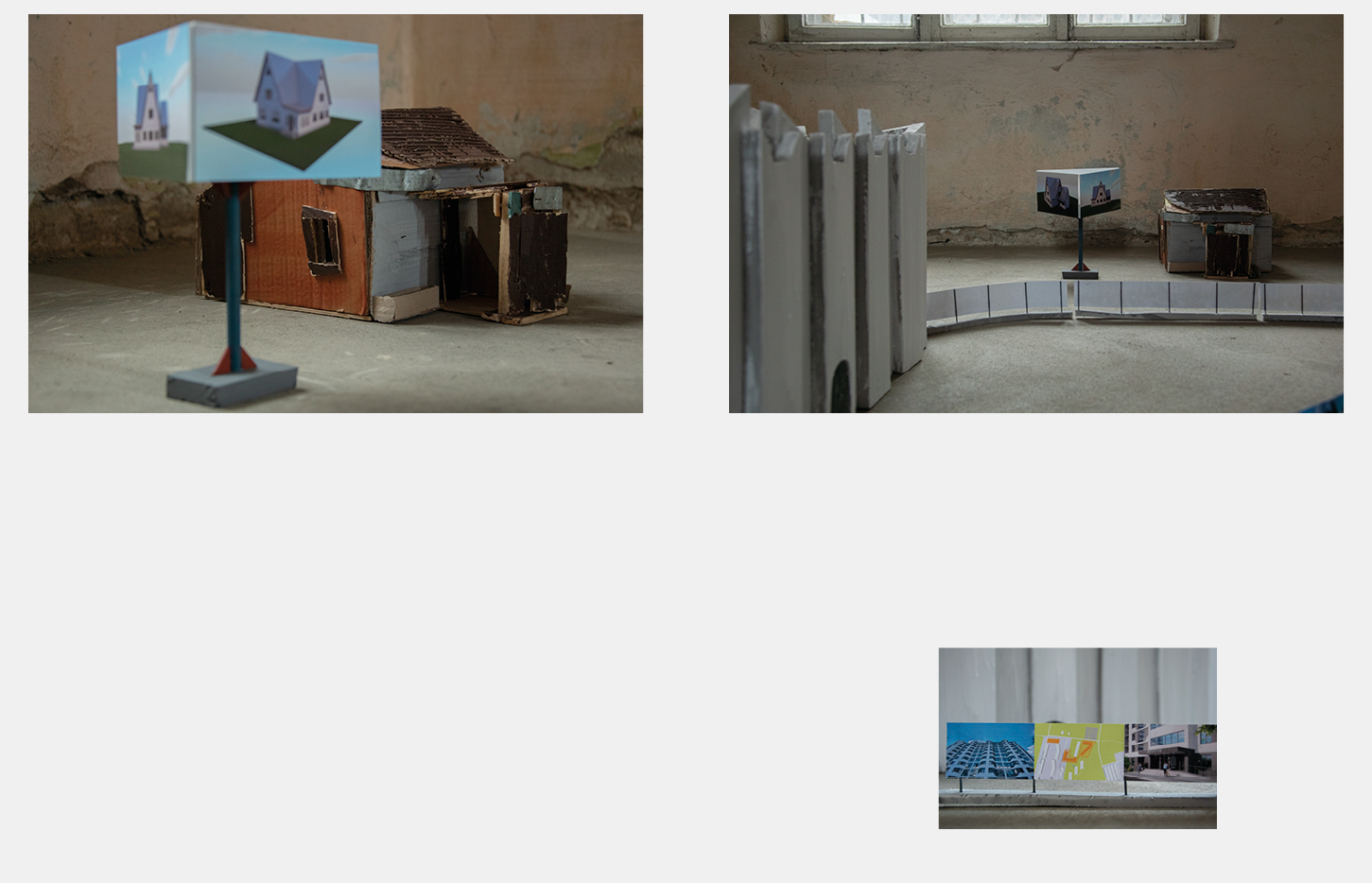 Charim
, Vienna
March 11 – 25, 2022
Preparing Passages — Before And After The Independence Day Exhibition.

It is extremely rare for specific events of global significance to affect an art exhibition in a substantial way. Nevertheless, the Russian war of aggression on Ukraine has given an existential drama to the long-planned exhibition of Ukrainian, German, Spanish and Austrian artists in our gallery. It was planned as the second part of a project that was realized at the Lviv Art Center on August 24, 2021, on the date of the 30th anniversary of the Ukrainian Independence Day. The original title of the Vienna exhibition "The Day after the Independence Day" now takes on a new meaning and possibly a new date for a liberated, independent Ukraine will also have to be found.
We open nevertheless or just because of this, even if the hostilities prevent that the artists can enter the country and their artworks can be transported. The newly conceived group exhibition will now be a collective work documenting the freedom of travel and exchange that were still taken for granted in the course of the realization of the original project in Lviv. This retrospective and concrete daily news of artists who stayed in Ukraine, concretize the emergence of the exhibition in the past and the development of the new "independence" - exhibition in Vienna.
Artistic production needs freedom. The current restriction of democratic rights of freedom, their gagging and cynical denigration in the Russian sphere of influence make it clear that all other forms of freedom and dignity are thereby also permanently damaged. The outcomes of this policy of violence and the current situation in Ukraine are focal points of this exhibition.
Kurt Kladler

Group exhibition
Artists: Ivan Bazak, Naomi Dutzi, Roman Khimei, Yarema Malashchuk, Friedrich Stockmeier, Vova Vorotniov, Tereza Yakovyna, Ostap Yashchuk.
Independence Day Exhibition. Claudio, Edik, Serhii, etc.

Both the newly-established country, which is being developed and separated from its neighbors, as well as each of its individual citizens are in the process of building their own agency. Brick fences are becoming larger, while houses are now three-storey. Dormant capital, in the form of brick piles which are covered with a slate of bad weather, lies under the walls. Building stones are waiting, meanwhile, Ukrainian labour migrants increasingly resemble non-national citizens. Unlike the "European Fortress" (Grote, 2007), those fences do not leak. While artists are choosing between activist usefulness and artistic quality, labour migrants, as a transnational subject, are creating new distinctive choreography.
Group exhibition
Artists: Ivan Bazak, Naomi Dutzi, Roman Khimei, Yarema Malashchuk, Friedrich Stockmeier, Vova Vorotniov, Tereza Yakovyna, Ostap Yashchuk.